Do I Need an Attorney if I Violated My Restraining Order in New Jersey?
June 22, 2020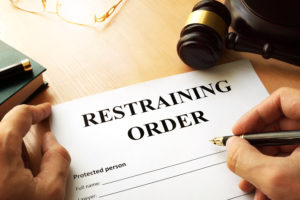 Having a restraining order filed against you can leave you with a wide range of questions about your rights and what you are permitted (and not permitted) to do. A restraining order is put in place to prevent a certain individual from coming in contact with someone else. Restraining orders are typically seen in domestic violence cases. However, there is much more to a restraining order than meets the eye. While most notably, they do help prevent interaction between two parties, they also have a slew of other restrictions such as:
Loss of weapons and/or firearms
Being barred from contacting the alleged victim's family or through the means of someone else
Temporary loss of child custody
Not being allowed to visit the scene of the act of domestic violence
And more
As you can see, there are many restrictions put in place when a restraining order is filed against you. Below, we answer some commonly asked questions about the penalties for violating a restraining order.
Examples of Violating a Restraining Order
There are many ways that a restraining order can be violated. Most commonly, these may include:
Failure to stay away from the protected person's residence or place of work
Violating a no-contact order by calling, visiting, emailing or sending a text message to the protected party
Making threats against the protected party
Failure to adhere to court-ordered visitation rules
Failure to pay spousal support and/or child support
Failure to move out out of the residence
And more
What Happens if I Violate a Restraining Order?
A violation of a restraining order can result in either a fourth degree crime or disorderly persons offense, depending on the circumstances. If someone purposely violates the conditions of their restraining order, they will be charged with a fourth degree crime, which is punishable by up to 18 months in jail and up to $10,000 in monetary fines.
For second and subsequent offenses, an individual will likely be facing a minimum of 30 days in jail.
As you can see, violating a restraining order carries significant penalties. If you violated your restraining order, the criminal defense attorneys at Aydelotte & Scardella Law LLC can help.
Contact an Experienced Audubon Criminal Defense Lawyer About Your Restraining Order Violations in Audubon
Were you arrested or charged with violating your restraining order in New Jersey? The consequences of a conviction could be severe, leaving you with a permanent criminal record and possibly even sending you to jail. That is why you need to speak with a qualified criminal defense attorney as soon as possible about your case. The attorneys at Aydelotte & Scardella Law LLC have successfully represented clients who have violated their restraining order in Burlington, Camden, Gloucester Counties, and throughout New Jersey. Call 856-452-4820 or fill out the online contact form to schedule a consultation with a member of our legal team. We have an office conveniently located at 109 E. Atlantic Ave, Audubon, NJ 08106 as well as offices located in Hamilton.
The articles on this blog are for informative purposes only and are no substitute for legal advice or an attorney-client relationship. If you are seeking legal advice, please contact our law firm directly.