Drug Induced Death Charge Attorney Camden, NJ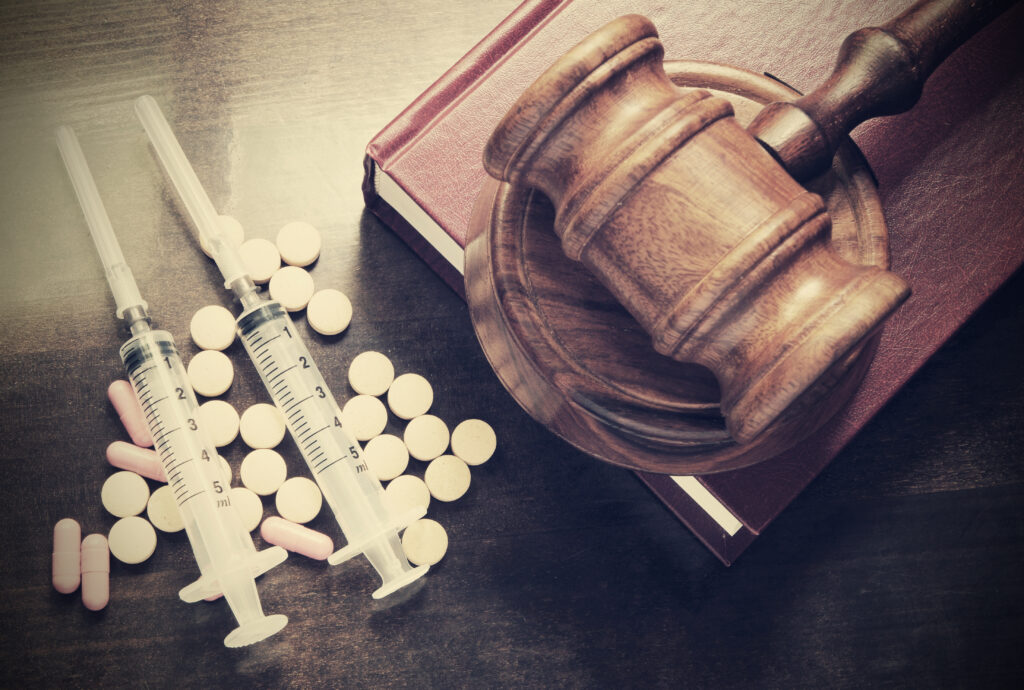 Top-Rated Criminal Defense Attorneys in South Jersey Represent Clients in Drug Overdose Death Cases in Camden County and Throughout South Jersey
If you're facing criminal charges ​​dealing with drug distribution that lead to another individual's death, a dedicated drug induced death charge attorney in Camden, NJ at Aydelotte & Scardella Law LLC can help you get justice. Allegations of selling or distributing drugs that result in a loss of life are extremely serious. Our lawyers provide aggressive, effective legal representation. Let our team help you attack the charges from every angle. Contact us today for a free consultation.
Trust an Experienced Drug Induced Death Charge Attorney in Camden, NJ at Aydelotte & Scardella Law to Prepare an Aggressive Defense Against Your Serious Drug Charges
While the penalties that you face are severe, you have important rights. A qualified drug induced death charge attorney in Camden, NJ at Aydelotte & Scardella Law LLC can help you create a personalized legal strategy. We give your case the in-depth, personalized attention that is important to get results.
Don't assume that there's nothing you can do – our Camden criminal defense attorneys are experienced professionals who are motivated and willing to fight for your case. If you're facing charges, call us today for an immediate consultation.
About New Jersey Statutes § 2C:35-9 – Strict Liability for Drug Induced Deaths
New Jersey law § 2C:35-9 imposes strict liability for deaths that result from the manufacture, distribution, or dispense of a dangerous drug. The prosecutor must prove the following to convict you (the defendant) for this crime:
The defendant sold or distributed the drug
A victim used it
Death resulted
The drug involved was a dangerous, controlled substance
No intervening actions by others occurred to make criminal responsibility unfair
Jurisdiction exists with the State of New Jersey to pursue the case
Despite the strict liability nature of the § 2C:35-9 law, the New Jersey Supreme Court upheld its legality in State v. Maldonado, 645 A.2d 1165 (1994). The prosecutor does not need to prove that the defendant intended the death to occur. However, the state must prove all the elements to sustain a conviction. The defendant has a right to trial in front of a petit jury.
Concurrent Charges – Drug Possession and Distribution
New Jersey law allows for the state to concurrently charge a defendant with drug induced death and related charges like drug possession and distribution. A trusted drug induced death charge attorney in Camden, NJ from our firm will address all the charges you may be facing and consider the entire circumstances as we prepare your legal strategy and defense.
Defenses for Drug Induced Death Charges
While each case is unique, defenses that may be viable include:
Joint user – The victim and defendant acquired the drugs together for joint use. The defendant did not distribute the drugs to the victim.
Constitutional challenges – In their investigation, law enforcement violated the rights of the defendant. In New Jersey v. Dorff, A-2485-19, the Superior Court of New Jersey, Appellate Division suppressed the statement of a defendant where law enforcement undermined her Miranda rights and encouraged her to speak without an attorney.
Causation – The death did not result from the use of the drugs.
Factual defenses – The defendant did not distribute the drugs. Alternatively, the substance involved was not a dangerous controlled substance that falls under the statute.
Intervening cause – There was a significant interruption in the chain of events that makes it unfair to hold the defendant accountable for the death. An example may be where a subsequent owner of the drugs alters their composition.
Lack of jurisdiction – No element of the offense occurs in New Jersey. A defendant successfully fought charges citing lack of jurisdiction in New Jersey v. Ferguson, 455 N.J. Super. 56 (App. Div. 2018). In the Ferguson case, the death occurred in the State of New York which did not have a comparable strict liability statute.
Creating an appropriate defense requires a review of the factual and scientific information that may be relevant. Presenting a strong defense should include consideration of preliminary motions challenging the admissibility of evidence, where appropriate.
It may be beneficial to take your case to a jury trial, challenging the elements of the offense. In other cases, your attorney prepares a strong defense to put you in a position to negotiate the best possible non-trial resolution. When fighting allegations of a drug dealer charged in an overdose death, it's critical to examine and pursue all possible defenses.
Penalties – Drug Distribution Causing Death Charges
Charges of drug distribution causing death are a first-degree indictable crime (felony). The potential penalties include:
10-20 years in prison (the presumptive sentence is 15 years)
A fine of up to $200,000
Additional fees of up to $3,000 and a $50 laboratory fee
Suspension of driver's license for up to two years
At trial, the jury decides whether the defendant is guilty of the offense. If they convict, it is the judge that determines the appropriate sentence. Court rules create a process for the sentencing hearing and what the judge considers when making their decision. If the jury decides not to convict, the court cannot impose any penalty.
Fighting Charges with a Qualified Drug Induced Death Charge Attorney in Camden, NJ
Responding to charges with an aggressive and thorough defense begins long before your trial date. The sooner you investigate, the sooner you can preserve evidence and identify the defenses that may be vital to your case. Our legal team can represent you through all stages including arraignment, bail and pretrial release hearings, preliminary motions, pretrial conferences, and more.
Even though charges of drug induced sudden cardiac arrest are meant to disrupt drug supply chains and high-level distributors, most prosecutions do not involve individuals who are habitual drug dealers or leaders in drug rings. In fact, they are often close friends or family of the victim. That can make responding to criminal charges even more painful.
We understand that you need advocates on your side. We are here to build a smart and effective strategy. It's our goal to build the strongest possible defense and mitigate the serious consequences associated with the charges.
Drug Induced Death Charge Attorney in Camden, NJ Motivated and Ready to Fight for Your Case. Contact Us Today for a Free Consultation
If you're facing charges, don't wait to contact an aggressive drug induced death charge attorney in Camden, NJ at Aydelotte & Scardella Law LLC. You have important rights, but you must exercise them effectively. Our dedicated criminal defense lawyers represent individuals facing drug charges including allegations of distributing drugs that result in death.
Although the charges are serious, we're here to do whatever it takes to build your defenses and exercise your rights. Let us begin fighting for you today. Contact us to connect immediately with our legal team.
Frequently Asked Questions (FAQs) About Facing Criminal Charges Under New Jersey's Strict Liability for Drug Induced Deaths Law
FAQ: Which drugs fall under New Jersey's Strict Liability for Drug Induced Deaths Law?
Drugs that fall within this law include any that are classified as a Schedule I or II. Schedule I substances have no accepted medical use in the U.S. and are not considered safe. Schedule I drugs include heroin, LSD, and ecstasy. Schedule II drugs have a strong potential for abuse. They include morphine and other painkillers.
FAQ: Should I tell my drug death defense attorney everything?
Your attorney is bound by ethics not to reveal whatever you tell them without your permission. However, they cannot legally present evidence in a case that they know to be false or allow you to commit perjury (lying while testifying in court). An attorney who knows their client to be guilty of a drug induced death charge can still argue that the jury should acquit (meaning to free someone from a criminal charge by a verdict of not guilty) by looking for mistakes made by law enforcement and by poking holes in the prosecution's theory in order to raise a reasonable doubt. In fact, protecting your constitutional rights is your criminal defense lawyer's highest obligation, so it would be in your best interest to be truthful with your drug induced death charges attorney so they can advise you of your best course of action.