Penalties for Fentanyl Possession in New Jersey
January 14, 2023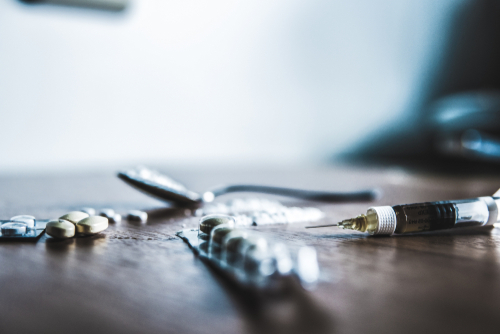 In New Jersey, drug possession is treated as a serious criminal offense. One type of drug that has recently seen increased abuse in New Jersey is fentanyl. If you are arrested and charged with possession of fentanyl in New Jersey, you need to know what penalties and consequences you may be facing if you are convicted on your possession charge. 
What is Fentanyl?
Fentanyl is a synthetic opioid that was first developed in the 1960s as an anesthetic and pain reliever. More potent than heroin, in a prescribed form, fentanyl may come in oral tablet or spray, patch, or injectable liquid form. Like other opioids such as morphine or oxycodone, fentanyl can cause feelings of euphoria, or in stronger doses can cause drowsiness or even sedation.
On the street, fentanyl is consumed either by crushing and snorting tablets or by melting fentanyl into an injectable liquid. Illegal fentanyl is often mixed with heroin, being sold as heroin "laced" with fentanyl. Unfortunately, this form of the drug is highly dangerous due to the increased risk of overdose. Overdosing on fentanyl may lead to coma, respiratory failure, and death. 
Possible Sentences for a Possession Conviction
In New Jersey, simple possession of fentanyl is charged as a third-degree crime. A conviction can lead to a sentence that may include:
Probation
Incarceration in county jail for up to 364 days, or imprisonment in state prison for a term of three to five years
A fine of up to $35,000
The specific sentence that a court will impose for possession of fentanyl will depend on various factors including the amount of fentanyl that was possessed, the circumstances under which the fentanyl was possessed (such as on or near school property), and the defendant's prior criminal record.
Simple possession, or possession of drugs for personal use, usually results in sentences at the lower end of the sentencing range, especially where a defendant has no prior criminal history. In some cases, a charge of simple possession may allow a defendant to seek admission to drug court, in which they can complete addiction rehabilitation and other requirements in exchange for having their charge dismissed.
However, possession of fentanyl with intent to sell or distribute (usually inferred from the quantity possessed, or other circumstances such as possessing drugs individually packaged for sale or also being in possession of packaging materials) carries much harsher punishments, with years of prison time being a near-certainty.
Defenses to a Fentanyl Possession Charge
Even if you have been arrested for possession of fentanyl, you may have factual or legal defenses available to you. In most fentanyl possession cases, the defense strategy focuses on challenging the legality of a police stop or search, or arguing that the evidence does not prove that a defendant had legal possession of the fentanyl.
Police require reasonable suspicion or probable cause of a criminal or traffic violation to stop an individual or vehicle. Police must have specific, articulable facts to support reasonable suspicion or probable cause, and cannot simply rely on a hunch or "gut feeling." In addition, police have probable cause to conduct a search, either by applying for a search warrant or relying on exigent circumstances that make obtaining a warrant impractical. If the police lacked reasonable suspicion for a stop or probable cause for a search, any drugs found during the encounter may be excluded from evidence in a criminal trial. 
It is critical to talk to a drug defense attorney about your case to determine whether the facts and circumstances support a potential defense.
Contact an Experienced Audubon Drug Defense Attorney About Your Fentanyl Possession Charges in New Jersey
Have you been charged with a drug-related offense in New Jersey?  A drug crime conviction can carry with it heavy fines, jail time, and driver's license suspension.  That is why it is imperative that you speak with a qualified drug defense lawyer about your case. The lawyers at Aydelotte & Scardella Law LLC represent clients charged with fentanyl use, possession, production, distribution, and related drug offenses in Monroe Township, Washington Township, Mount Laurel, Evesham Township, and throughout New Jersey. Call (856) 452-4820 or fill out our confidential online contact form to schedule a free consultation about your case. We have an office conveniently located at 109 E. Atlantic Ave., Audubon, NJ 08106, as well as offices located in Hamilton.
The articles on this blog are for informative purposes only and are no substitute for legal advice or an attorney-client relationship. If you are seeking legal advice, please contact our law firm directly.