What Does Double Jeopardy Mean?
December 3, 2022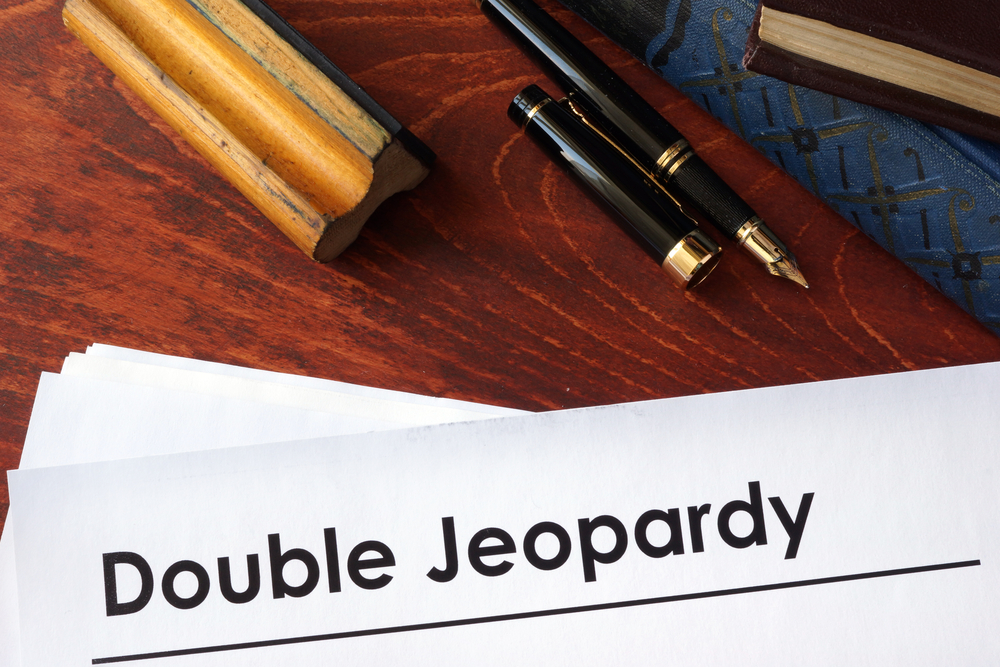 Although you may have heard of the phrase "double jeopardy" in the context of a criminal case, you may not know what the term means or what rights are afforded by it. If you are facing criminal prosecution, you need to know what is meant by "double jeopardy" and when the protections of the rule attach in your case.
What is Double Jeopardy?
Double jeopardy refers to a right or protection afforded by the Fifth Amendment in the U.S. Constitution. The Double Jeopardy Clause in the Fifth Amendment states: "[N]or shall any person be subject for the same offense to be twice put in jeopardy of life or limb." Most state constitutions in the U.S. also have similar clauses providing double jeopardy protection under state law.
When Does Double Jeopardy Occur?
As the name suggests, double jeopardy occurs when a criminal defendant is placed in "jeopardy" by prosecution for a criminal offense after facing a prior prosecution for that same offense. For example, if a person is charged with assault and their case proceeds to trial, double jeopardy would occur if the jury returns a not guilty verdict followed by the prosecution refiling assault charges for the exact same criminal offense. However, double jeopardy permits co-defendants or accomplices to be tried separately or one after the other for the same criminal offense.
What is the Scope of Double Jeopardy Protection?
Double jeopardy protection precludes a defendant from being subject to criminal prosecution and trial for any kind of criminal offense or quasi-criminal offense for a second time. This includes felonies, misdemeanors, and juvenile offenses. It also includes offenses that carry jail or prison time as a possible penalty as well as offenses that only have fines as a penalty. A person can also be prosecuted for both state and federal crimes for the same criminal incident without violating double jeopardy since the state government and federal government are separate sovereigns each entitled to prosecute a defendant under their laws. Double jeopardy also does not prohibit the prosecution from appealing pre-trial motions, dismissal of the case on procedural grounds rather than the merits, or a directed verdict following a jury conviction. Double jeopardy does not bar prosecution if a case is reversed on appeal, except on grounds of sufficiency of evidence, since the "initial" jeopardy from the first case has not yet been terminated. 
When Does Double Jeopardy Attach?
Normally, double jeopardy attaches when a criminal defendant is put in legal peril of a conviction by the seating of a jury for trial. Double jeopardy normally does not attach prior to this point. That means that prosecutors can voluntarily dismiss charges prior to trial without prejudice to the state's right to refile those charges at a later date (within any applicable statute of limitations). However, once a jury is impaneled and the first witness sworn at trial, double jeopardy attaches and the government normally cannot refile the same charges after the trial ends. Double jeopardy also attaches if a defendant is convicted via a guilty plea. Circumstances in which double jeopardy typically attaches include:
Acquittal at trial
Conviction
Imposing multiple punishments for the same indictment
Mistrial, under certain circumstances
Double jeopardy does not attach following a mistrial granted on the defendant's motion unless the government acted in bad faith to motivate the defendant to move for a mistrial. A government motion for mistrial does not result in double jeopardy if the trial court grants the motion due to "manifest necessity." Mistrials ordered on the trial court's own initiative without a motion by either party also do not trigger double jeopardy. 
Contact an Experienced Hamilton Township Criminal Defense Lawyer About Your Charges in New Jersey
Were you arrested or charged with a crime in New Jersey? The consequences of a conviction could be severe, leaving you with a permanent criminal record and possibly even sending you to jail. That is why you need to speak with a qualified criminal defense attorney as soon as possible about your case. The attorneys at Aydelotte & Scardella Law have successfully represented clients charged in Mt. Ephraim, Haddon Heights, Audubon, Cherry Hill, and throughout New Jersey. Call 856-386-4892 or fill out the online contact form to schedule a consultation with a member of our legal team. We have an office conveniently located at 313 White Horse Pike, First Floor Haddon Heights, NJ 08035, as well as an office in Hamilton. 
The articles on this blog are for informative purposes only and are no substitute for legal advice or an attorney-client relationship. If you are seeking legal advice, please contact our law firm directly.