Attorney Nancianne Aydelotte Speaks Out on NJ Transit Case
September 11, 2020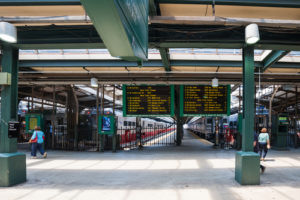 A supervisor for NJ Transit was recently sentenced to five years in prison for organizing a scheme to steal $2.1 million dollars from the agency. According to the Essex County Prosecutor's Office, Richard E. Schade, 63, who is a resident of Lumberton, NJ, conspired with four fake companies and approved payment to them for a variety of different services including landscaping and maintenance on NJ Transit properties. According to the prosecutor's office, Mr. Schade had the authority to approve payments of up to $5,000 at a time from NJ Transit to different subcontractors for facility maintenance. The defendant reportedly signed off on these transactions to other companies owned by the other defendants in the case over the course of several years. Those involved in the scheme reportedly then paid Mr. Schade cash kickbacks.
In September 2019, Schade pled guilty to second-degree conspiracy to commit theft by deception. He was represented by criminal defense attorney Nancianne Aydelotte of Aydelotte & Scardella Law LLC in Audubon, NJ.
Theft by Deception Charges
New Jersey residents who have committed theft by deception in the second degree may be facing up to 10 years behind bars in addition to a maximum fine of $150,000.
Statement Made by Attorney Aydelotte
In a statement released by Ms. Aydelotte regarding the outcome of the case, she said, "we are very happy to have resolved this case in the way we did. We feel that the plea agreement is fair, and we have every intention of pursuing [the Intensive Supervision Program] as soon as Mr. Schade is eligible and trying to secure his release in approximately 6 months. Mr. Schade regrets his involvement but looks forward to returning to his family, friends and community."
The Intensive Supervision Program – or ISP for short – is a form of parole. Through this system, individuals can be placed on an alternative form of community-based correctional supervision. The purpose of ISP is to allow individuals to serve part of their sentence outside of the traditional prison setting in an effort to get their lives back on track.
Mr. Schade has been ordered to pay $200,000 in restitution to NJ Transit. Once he is released, he is permanently barred from holding any sort of public employment in the state of New Jersey.
Contact an Experienced Audubon Criminal Defense Lawyer About Your Theft by Deception Charges in NJ
Were you arrested or charged with theft by deception in New Jersey? The consequences of a conviction could be severe, leaving you with a permanent criminal record and possibly even sending you to jail. That is why you need to speak with a qualified criminal defense attorney as soon as possible about your case. The attorneys at Aydelotte & Scardella Law LLC have successfully represented clients charged with theft in Audubon, Hamilton, and throughout New Jersey. Call 856-386-4892 or fill out the online contact form to schedule a consultation with a member of our legal team. We have an office conveniently located at 109 East Atlantic Avenue, Audubon, NJ, as well as offices located in Hamilton.
The articles on this blog are for informative purposes only and are no substitute for legal advice or an attorney-client relationship. If you are seeking legal advice, please contact our law firm directly.