Catholic School Teacher and Coach Repeatedly Sexually Assaulted Student, Prosecutor Alleges
September 2, 2020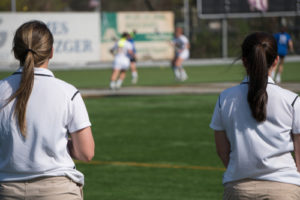 A teacher and girls lacrosse coach at Camden Catholic High School was arrested and charged with sexually assaulting a 17-year-old student for more than a year, according to prosecutors.
Teacher Charged with Sexually Assaulting Student in Her Class
Bridget Sipera, of Cherry Hill, was charged with multiple counts of sexual assault and endangering the welfare of a child, arising from crimes that occurred in Gloucester Township. One set of the charges also arose from incidents that occurred at Camden Catholic High School, located in Cherry Hill, where Sipera was a teacher and the head coach of the girls lacrosse team.
Prosecutors allege that Sipera's sexual assaults began in January 2019 while the victim was a student in her class, with the assaults continuing through March 2020. Sipera admitted that the assaults occurred in multiple municipalities throughout New Jersey, with law enforcement noting Sipera could be facing additional charges.
Why Experienced Legal Representation Is Key When Facing Sexual Assault Charges
If you are under investigation for or have been arrested for sexual assault, it is critical that you have a skilled criminal defense attorney in your corner. Conviction for sexual crimes, especially for crimes committed against minors, carry substantial penalties.
Sexual assault, defined as committing an act of sexual penetration when using physical force that does not result in injury to the victim, or having sexual contact with someone under 13 years old when you are older than 17, is graded as a second decree crime in New Jersey, which can carry a maximum sentence of 10 years in prison.
Aggravated sexual assault involves any sexual contact with a victim under the age of 13, or a victim under the age of 16 when you are a family member or have care and control over the victim, or when you commit the assault during the commission of another crime or with a weapon or threat of a weapon, or when the victim is incapacitated or handicapped. Aggravated sexual assault is graded as a first degree crime in New Jersey, conviction for which can result in a sentence of up to 20 years in prison.
A conviction for sexual assault also carries other consequences even after you have completed a prison sentence. For example, upon your release, you will likely be required to register as a sex offender; this obligation can last for as long as 20 years following your release, and in some cases may be a lifelong obligation. Being a registered sex offender can severely curtail your options and opportunities for employment, education, or housing. In addition, being convicted for sexual assault may require you to be evaluated for designation as a sexually violent predator, which can carry additional restrictions on your life following your release from prison, including restrictions on where you can live, or your ability to have access to social media, the internet or to possess electronic devices such as computers or cell phones. You will also likely be required to be on something called Parole Supervision for Life, which lasts for at least 15 yeas and will keep you on parole with a parole officer monitoring your behavior and adherence to rules and regulations that are set for you, with the consequence of violating them being more time in prison.
Given the far-reaching consequences of a conviction for sexual assault, it is imperative you have a criminal defense attorney who will fight for your rights and interests. A criminal defense lawyer can investigate your case and offer potential legal defenses to your charges or seek dismissal of your case; an attorney can also potentially help negotiate a reduction or dismissal of certain charges through a plea bargain so that you avoid the most severe consequences of a conviction on your charges.
Contact an Experienced Audubon Criminal Defense Lawyer About Your Sex Crime Charges in New Jersey
Were you arrested or charged with a sex crime in New Jersey? The consequences of a conviction could be severe, leaving you with a permanent criminal record and possibly even sending you to jail. That is why you need to speak with a qualified criminal defense attorney as soon as possible about your case. The attorneys at Aydelotte & Scardella Law LLC have successfully represented clients charged with sex crimes in Camden, Cherry Hill, Burlington, Gloucester, and throughout New Jersey. Call 856-386-4892 or fill out the online contact form to schedule a consultation with a member of our legal team. We have an office conveniently located at 109 East Atlantic Ave., Audubon, NJ 08106, as well as offices located in Hamilton.
The articles on this blog are for informative purposes only and are no substitute for legal advice or an attorney-client relationship. If you are seeking legal advice, please contact our law firm directly.