Do Crime Rates Really Increase on Halloween? 
October 31, 2020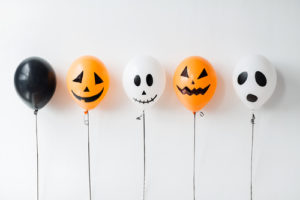 Although crime rates do increase on Halloween compared to an average day, most of the criminal offenses involve pranks and mischief committed by teens and young adults or involve alcohol-related crimes like DUI and bar fights.
Even though more serious crimes like assaults, kidnappings, and homicides occur everyday, these crimes can seem more memorable when they occur on Halloween, especially when the holiday is referred to as "Mischief Night" or "Devil's Night." Halloween is often seen as a holiday where people can dress up, let loose, and have fun, making it seem all the more likely that some people will take their fun a little too far. Crime on Halloween can also seem more concerning to families who take young children out into neighborhoods for trick-or-treating. 
Mischief-Related Crimes
Rates of prank- and mischief-related crimes do increase on Halloween, with children and young teens engaging in more harmless pranks like throwing eggs or covering someone's property in toilet paper, and sometimes engaging in more serious vandalism like spray-painting or causing damage to vehicles. Some young people see committing pranks on Halloween as a way to continue enjoying the holiday without having to engage in activities for younger children, such as trick-or-treating.
Violent Crimes
Violent crimes such as kidnapping, assault, or homicide do not greatly increase on Halloween compared to other days (even though more children and people out and about on Halloween might provide greater opportunity for these crimes to occur). However, rates of simple assaults or domestic violence can increase on Halloween as the holiday encourages people to go out to parties and consume excessive amounts of alcohol.
Drunk Driving
Many localities do report increases of alcohol-related crimes on Halloween and Halloween weekend, especially DUI offenses, as people attend parties and then try to drive themselves home while under the influence of alcohol or drugs. Of course, these increased rates are also largely in line with other holidays where people have parties, such as Independence Day, New Year's Eve and Super Bowl Sunday.
Increased rates of DUIs and alcohol/drug-related offenses may also be attributable to increased law enforcement efforts on Halloween, such as additional officer patrols or DUI checkpoints, which allow police to catch more people breaking the law (even though increased law enforcement presence is designed to deter criminal activity, not catch more offenders).
What to Do If You're Arrested for a Crime on Halloween
If you or a family member are arrested for a crime on Halloween, whether it be for prank-related vandalism or for a more serious offense like DUI, you should remember your right to remain silent and your right to an attorney. You should also contact a criminal defense attorney as soon as possible. Even a seemingly minor first time offense can have serious consequences that follow you for a long time. A juvenile or criminal record can make it difficult for a young person to secure employment and educational opportunities, or driver's license suspension and insurance surcharges if you are convicted of DUI.
Contact an Experienced Audubon Criminal Defense Lawyer About Your Charges in New Jersey
Were you arrested or charged in New Jersey? The consequences of a conviction could be severe, leaving you with a permanent criminal record and possibly even sending you to jail. That is why you need to speak with a qualified criminal defense attorney as soon as possible about your case. The attorneys at Aydelotte & Scardella Law, LLC have successfully represented clients charged in Camden, Burlington, Gloucester Township, Cherry Hill, and throughout New Jersey. Call 856-386-4892 or fill out the online contact form to schedule a consultation with a member of our legal team. We have an office conveniently located at 109 E. Atlantic Ave., Audubon, NJ 08106, as well as offices located in Hamilton.
The articles on this blog are for informative purposes only and are no substitute for legal advice or an attorney-client relationship. If you are seeking legal advice, please contact our law firm directly.