Nancianne Aydelotte Recognized as "Top Attorney" by SJ Magazine
August 10, 2020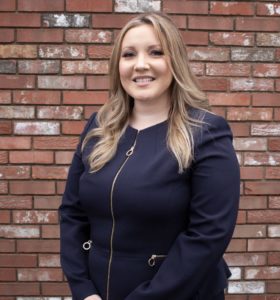 The law firm of Aydelotte & Scardella Law LLC is pleased to announce that Nancianne Aydelotte, Esquire has been recognized as a "Top Attorney" by SJ Magazine for her work in obtaining criminal record expungements for her clients. Learn more about Nancianne and this wonderful recognition below.
How Does a Lawyer Become a "Top Attorney?"
In order to be recognized as a "Top Attorney' by SJ Magazine, a lawyer must be nominated by their peers. As such, a recognition of this magnitude is the biggest compliment. According to SJ Magazine, "it takes a wealth of knowledge and competency along with a strong work ethic to become a Top Attorney."
Learn more about what earned Nancianne this recognition below.
About Nancianne Aydelotte
Nancianne Aydelotte graduated from Rutgers School of Law with her Juris Doctorate in 2012 and has since been licensed to practice law in both New Jersey and Pennsylvania. She has participated as faculty for numerous continuing legal education courses including but not limited to "New Jersey Municipal Court Practice" for the Association of the Bar of the City of New York in 2016, 2018 and 2019, "Is it Legal? Issues Related to Marijuana" for the Camden County Bar Association and "Me Too: Legal and Social Implications of Bringing and Defending Allegations of Sexual Impropriety" for the Camden County Bar Association, both in 2018.
Nancianne is also certified as a National Highway Traffic Safety Administration/International Association of Chiefs of Police Standardized Field Sobriety Testing Practitioner.
However, it's Nancianne's demeanor and compassion that truly sets her apart from other attorneys. As a criminal defense attorney, she understands that her clients are facing the biggest crisis of their lives. With so much at stake, Nancianne strives to provide the highest level of quality representation to her clients. When you meet with Nancianne, you are in a no judgement zone. She understands that regardless of your situation, you need human compassion. You need someone who will listen to you rather than just wait their turn to talk again. This approach plus her legal skill and knowledge of the law is why those in her field nominate her as a "Top Attorney."
Nancianne's experience, drive, and compassion have earned her numerous accolades. She was named a "Top Attorney" in Criminal Defense by SJ Magazine in 2018 and an "Awesome Attorney" in Criminal Defense by South Jersey Magazine the same year. She has also been named a "NJ SuperLawyer – Rising Star" by Super Lawyers Magazine in both 2019 and 2020.
If you were charged with any of the following, Attorney Nancianne Aydelotte can help:
If you were charged with a crime, served your time and want to know if you're eligible to get an expungement, give our firm a call today. We understand that a criminal record can make it nearly impossible to get a job, pursue an education or rent an apartment. We'll help you file all the necessary paperwork and ensure that you find the fresh start you deserve.
Contact an Experienced Hamilton Criminal Defense Lawyer About Your Charges in New Jersey
Were you arrested or charged in New Jersey? The consequences of a conviction could be severe, leaving you with a permanent criminal record and possibly even sending you to jail. That is why you need to speak with a qualified criminal defense attorney as soon as possible about your case. The attorneys at Aydelotte & Scardella Law LLC have successfully represented clients charged in Trenton, Ewing, Lawrence, Princeton, Audubon, Camden and throughout New Jersey. Call (609) 250-9761 or fill out the online contact form to schedule a consultation with a member of our legal team. We have an office conveniently located at 2653 Nottingham Way, Hamilton Township, NJ 08619 as well as Audubon, NJ.
The articles on this blog are for informative purposes only and are no substitute for legal advice or an attorney-client relationship. If you are seeking legal advice, please contact our law firm directly.