NJ Corrections Officer Charged With Smuggling Drugs into Local Prison
November 11, 2020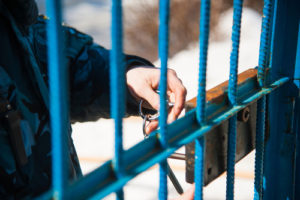 A New Jersey corrections officer was charged, following a joint state-federal investigation, with having smuggled contraband into the Atlantic County Justice Facility.
Corrections Officer Smuggles Contraband into Jail
Luis A. Mercado, 25, of Galloway Township, was charged last month with second-degree official misconduct after a joint investigation between agents from the U.S. Drug Enforcement Administration and officials at the Atlantic County Justice Facility obtained evidence indicating that Mercado was utilizing his position as a corrections officer at the jail to smuggle contraband, including drugs and cell phones, into the facility. Atlantic County Prosecutor Damon Tyner alleged in a statement that Mercado's smuggling of contraband into the jail facility was conducted "to further a criminal organization."
Potential Criminal Offenses for Bringing Contraband into a Correctional Facility
Trying to sneak contraband such as drugs or cell phones into a correctional facility can lead to very serious criminal charges. Even if you are trying to do something as seemingly harmless as bringing a cell phone to an inmate to contact loved ones, you can face serious criminal charges for bringing unapproved items to inmates in a correctional facility. For example, smuggling drugs into a correctional facility can result in charges of possession or distribution of controlled dangerous substances. Sneaking a cell phone to an inmate can also lead to charges of criminal conspiracy or aiding and abetting any criminal activity the inmate is able to facilitate with that cell phone. Bringing in items that might be used to facilitate a prisoner's escape can also be charged as its own separate criminal offense. Smuggling contraband into a federal correctional facility carries even harsher consequences than doing so in a state or county facility, with potential sentences reaching as high as 20 years depending on the type of contraband.
If you are an employee of a correctional facility and are caught bringing contraband into the facility for inmates, you can also be charged with official misconduct, a conviction for which will result in the loss of your job and your state pension, in addition to standard criminal penalties.
Read more: Drug Possession Defense
What to Do If You Are Arrested for Sneaking Contraband to a Prisoner
If you are arrested for bringing contraband into a correctional facility, you should exercise your right to remain silent and speak with a criminal defense attorney before deciding whether to answer the police's questions or make any decisions about your case. The security of correctional facilities is an incredibly serious matter, and any breaches of the rules governing security of correctional facilities is treated with the utmost gravity.
A criminal defense attorney can review the facts of your case to determine whether you may have factual or legal defenses available to you, including mistaken identity or a mistake over whether you were authorized to bring an item to a prisoner.
A criminal defense lawyer can also negotiate on your behalf to try to reduce the severity of your charges or have certain charges dismissed so that you might avoid the most serious consequences of a conviction, including serious fines and extended prison sentences.
Read more: Common Criminal Defenses
Contact an Experienced Audubon Criminal Defense Lawyer About Your Charges in New Jersey
Were you arrested or charged in New Jersey? The consequences of a conviction could be severe, leaving you with a permanent criminal record and possibly even sending you to jail. That is why you need to speak with a qualified criminal defense attorney as soon as possible about your case. The attorneys at Aydelotte & Scardella Law LLC have successfully represented clients charged in Camden, Burlington, Cherry Hill, Washington Township and throughout New Jersey. Call 856-386-4892 or fill out the online contact form to schedule a consultation with a member of our legal team. We have an office conveniently located at 109 E. Atlantic Ave, Audubon, NJ 08106, as well as offices located in Hamilton.
The articles on this blog are for informative purposes only and are no substitute for legal advice or an attorney-client relationship. If you are seeking legal advice, please contact our law firm directly.