Stealing Packages Off A Porch is Now a Felony Crime in NJ
March 20, 2022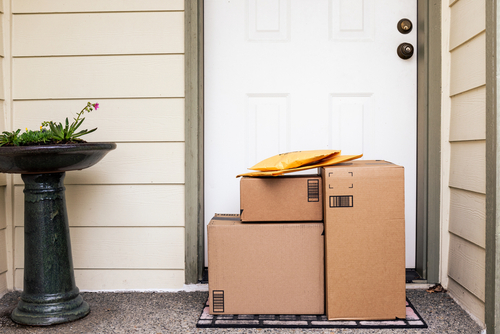 The growth of online retail has made packages dropped off on front porches a common sight throughout New Jersey. Unfortunately, because these packages often sit out in the open until residents come home in the evening, they are an attractive target for thieves, who have been popularly dubbed "porch pirates." In response to increased rates of package theft in the past few years, New Jersey has recently amended the criminal statute outlawing package theft. 
New Law Increases Grading of Theft Charge
As part of a law recently signed by Governor Phil Murphy, theft of a delivered package has been increased in grading to a third-degree crime (felony). Previously, theft of delivered packages was typically charged as a misdemeanor offense, as the value of the items stolen rarely exceeded the dollar value needed to trigger a felony theft charge. However, stealing packages from porches in New Jersey can now be charged as a felony offense regardless of the value of the stolen items.
Legislators note that in addition to online retail, many disabled and elderly persons rely on package deliveries for food and medicines, which might end up being swiped by a package thief and leaving people without critical medication.
Consequences of a Conviction
As a third-degree crime or felony, a conviction for theft of a delivered package can result in a sentence that includes three to five years in prison, and/or a fine of up to $15,000. A person convicted of package theft may also be required to pay restitution to the victim, reimbursing them for the value of the items that were stolen. This is a steep increase from the penalties that are imposed for a misdemeanor conviction, which usually involves probation or a few days to a few weeks in jail plus fines of several hundred dollars.
In addition, a conviction also results in a criminal record, which can make it harder to apply for housing, employment, or educational opportunities. A theft conviction may also be a disqualification to applying for certain licenses or government services.
How Can a Criminal Defense Lawyer Help
If you are charged with the theft of a delivered package in New Jersey, you could be facing significant consequences in the event of a conviction. You need a criminal defense lawyer who can advocate on your behalf and help you pursue the best possible outcome to your charges. A criminal defense attorney can assist you with facing your charges by:
Independently investigating the charges against you to recover evidence that may be useful in your defense, rather than simply relying on evidence provided by the prosecution.
Going over your legal rights and options with you, including the potential outcomes you may face from your charges.
Identifying potential defenses (such as mistaken identity).
Challenging the prosecution's evidence, including seeking to exclude evidence that may have been obtained in violation of your rights.
Exploring legal alternatives to prosecution that may allow you to avoid the most serious consequences of a conviction.
Where appropriate, negotiate with the prosecutors to try to reach a favorable plea deal.
Advocating on your behalf at trial, if you choose to contest your charges. 
Contact an Experienced Haddon Heights Criminal Defense Lawyer About Your Theft Charges in New Jersey
Were you arrested or charged with theft in New Jersey? The consequences of a conviction could be severe, leaving you with a permanent criminal record and possibly even sending you to jail. That is why you need to speak with a qualified criminal defense attorney as soon as possible about your case. The attorneys at Aydelotte & Scardella Law LLC have successfully represented clients charged with theft in Cherry Hill, Haddon Township, Camden, and throughout New Jersey. Call (856) 452-4820 or fill out the online contact form to schedule a consultation with a member of our legal team. We have an office located at 313 White Horse Pike, First Floor, Haddon Heights, NJ 08035 in addition to offices located in Hamilton.
The articles on this blog are for informative purposes only and are no substitute for legal advice or an attorney-client relationship. If you are seeking legal advice, please contact our law firm directly.