What Happens When Shoplifters Get Caught?
November 16, 2021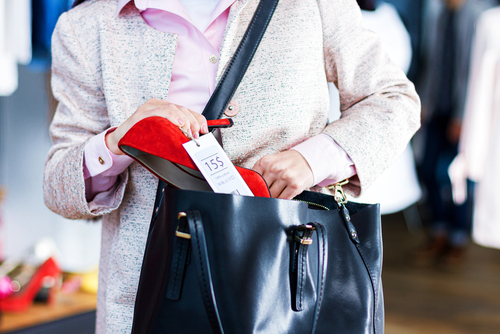 People shoplift from stores for a variety of reasons. Some people shoplift as part of a scheme to make money selling the stolen items themselves. Other people shoplift items that they need but cannot afford. Others may choose to shoplift as an act of mischief or to experience the emotional rush that comes from the fear of being caught. A few people shoplift due to mental conditions. And some people may shoplift for reasons they don't fully understand or cannot fully explain.
When a shoplifter is caught stealing from a store, what are the consequences that they may face for their actions?
Banned from the Store
A person who is caught shoplifting from a store may end up being permanently banned from the store. When the store is part of a larger chain, they may even be permanently banned from all of the chain's locations. If a shoplifter is permanently banned from a store after shoplifting but goes back to the store at a later date, they can be immediately arrested for trespassing, even if they genuinely intended to make no trouble and to pay for all the items they wished to buy. 
Obligated to Pay the Store's Costs
A store may incur costs in investigating suspected shoplifting. The store may then demand that the shoplifter reimburse the store not only for these expenses but also for the cost of the item or items that were stolen, especially if the shoplifter was able to successfully remove them from the store or if the items are recovered but can no longer be sold. Stores may send these costs to a collections agency, which can damage the shoplifter's credit score.
Arrested for Shoplifting
Of course, the store may also choose to call law enforcement to press charges for shoplifting. Stores may be more likely to involve law enforcement if they have previously caught an individual shoplifting in a store, or if the store suspects the individual is part of a shoplifting scheme, or if the shoplifter attempted to steal high-value items.
Stores will typically involve law enforcement when they have solid evidence that a shoplifter stole or was attempting to steal items, usually in the form of surveillance camera footage as well as testimony from store employees or loss prevention officers. 
Penalties for a Shoplifting Conviction
If a person is arrested and convicted for shoplifting in New Jersey, the penalties they may face for their conviction will depend on the value of the item or items that were taken. Penalties for a shoplifting conviction include:
Merchandise is valued at less than $200: Conviction is a disorderly persons offense (misdemeanor), with a maximum sentence of up to six months in jail, a fine of up to $1,000, and possible driver's license suspension.
Merchandise is valued at least $200 but less than $500: Conviction is a fourth degree crime (felony), with a maximum sentence of up to 18 months in prison
Merchandise is valued at least $500 but less than $75,000, or at less than $1,000 when stolen as part of an organized retail theft ring: Conviction is a third degree crime, with sentence of three to five years in prison.
Merchandise is valued at $75,000 or more, or at $1,000 or more when stolen as part of an organized retail theft ring: Conviction is a second degree crime with a sentence of five to 10 years in prison.
Contact an Experienced Audubon Criminal Defense Lawyer About Your Shoplifting Charges in New Jersey
Were you arrested or charged with shoplifting in New Jersey? The consequences of a conviction could be severe, leaving you with a permanent criminal record and possibly even sending you to jail. That is why you need to speak with a qualified criminal defense attorney as soon as possible about your case. The attorneys at Aydelotte & Scardella Law LLC have successfully represented clients charged with shoplifting in Cherry Hill, Haddon Township, Camden, and throughout New Jersey. Call (856) 452-4820 or fill out the online contact form to schedule a consultation with a member of our legal team. We have an office located at 109 E. Atlantic Ave., Audubon, NJ 08106, in addition to offices located in Hamilton.
The articles on this blog are for informative purposes only and are no substitute for legal advice or an attorney-client relationship. If you are seeking legal advice, please contact our law firm directly.