How Can a Criminal Defense Lawyer Help Me if I'm Arrested for Gun Possession?
January 31, 2021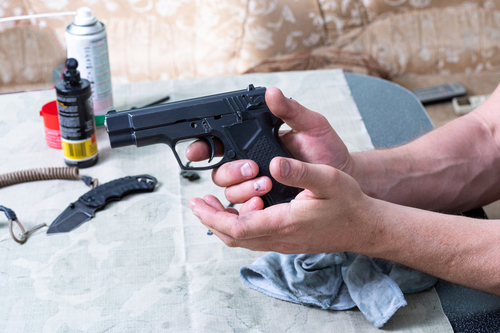 Firearms are strictly controlled in New Jersey. Possessing or using a firearm unlawfully in the state can subject you to harsh criminal penalties in the event of a conviction. If you have been arrested on gun possession charges, you need an experienced criminal defense lawyer to help protect your rights and interests and help you fight to avoid the most serious consequences of a weapons conviction in New Jersey.
What Are Weapons Crimes in New Jersey
In New Jersey, a firearm includes handguns, rifles, shotguns, machine guns, assault weapons, automatic and semi-automatic rifles, air guns, spring guns, and pistols, whether or not the firearm is loaded with ammunition or a magazine. Some of the most common weapons crimes under New Jersey law include:
Possession of a weapon for an unlawful purpose
Possession of a weapon during the commission of a crime
Unlawful use of imitation firearms
Possession of an assault weapon
Possession of a firearm without a license or permit
Threatening another person with a firearm
Possession of a firearm by a juvenile
Possession of a firearm or imitation firearm on school property
Possession of certain kinds of firearms, such as firearms with altered or defaced identification numbers, silenced firearms, sawed-off shotguns, automatic rifles, and machine pistols is always illegal in New Jersey. New Jersey law also prohibits ammunition magazines with a capacity of 15 or more rounds.
Consequences of a Gun Conviction
New Jersey has some of the most strict gun laws in the country. As a result, a conviction for a firearm-related crime can carry harsh penalties. Some gun crimes are charged as first-degree crimes in New Jersey, which can carry a prison sentence of up to 20 years and a fine of up to $150,000. 
In addition, firearms convictions are subject to New Jersey's Graves Act, which requires mandatory minimum terms of imprisonment for certain firearm offenses. The Graves Act requires that offenders convicted of eligible offenses serve a minimum of one-half of the sentence imposed by the court or 42 months, whichever is greater, before the offender may be eligible for parole.
Possible Defenses to Weapons Charges
Just because you are arrested on a gun charge does not mean you do not have possible legal defenses available to you. Common defenses raised in firearms cases include:
Challenging whether the device in your possession qualifies as a firearm under New Jersey law
Challenging whether you had actual or constructive possession of the firearm
Arguing that you were subjected to an unlawful stop or search and seizure by law enforcement
Challenging the constitutionality of your arrest or your questioning
How a Defense Lawyer Can Help You with Weapons Charges
A criminal defense lawyer may be able to help you avoid the most serious consequences of your firearms charges by:
Challenging the admissibility and reliability of the state's evidence
Moving to have your charges reduced or dropped outright
Applying for your admission to a pretrial intervention program or conditional discharge program, if you are eligible
Negotiating for a favorable plea agreement, if that represents the best option to help you avoid the most serious consequences of a conviction
Read more: When Do I Need a Lawyer for a Criminal Case?
Contact an Experienced Audubon Criminal Defense Lawyer About Your Weapons Charges in New Jersey
Were you arrested or charged with weapons offenses in New Jersey? The consequences of a conviction could be severe, leaving you with a permanent criminal record and possibly even sending you to jail. That is why you need to speak with a qualified criminal defense attorney as soon as possible about your case. The attorneys at Aydelotte & Scardella Law LLC have successfully represented clients charged with weapons offenses in Cherry Hill, Haddon Township, Camden, and throughout New Jersey. Call 856-246-5576 or fill out the online contact form to schedule a consultation with a member of our legal team. We have an office located at 109 E. Atlantic Ave., Audubon, NJ 08106, in addition to offices located in Hamilton.
The articles on this blog are for informative purposes only and are no substitute for legal advice or an attorney-client relationship. If you are seeking legal advice, please contact our law firm directly.