Teen Arrested for Coughing on Another and Claiming Coronavirus Infection
April 7, 2020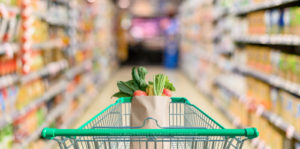 A Trenton, NJ teen was arrested on March 31 for an incident in which she allegedly coughed on another person and claimed that she was infected with coronavirus.
The Incident
A 16-year-old who was the daughter of an Instacart employee was arrested at a Wegmans supermarket in West Windsor, NJ. The teen was standing in front of her mother's shopping cart as they were approaching the registers, when a 52-year-old woman in front of them asked the teen to back up in accordance with social distancing rules. The teen allegedly walked up to the woman, pulled down her face mask, coughed on the woman, and then claimed that she had coronavirus.
The teen's mother claimed that she and her daughter had been behind ground markers intended to designate proper social distancing and were not near the woman. The teen's mother instead claimed that the woman had taken a swing after they exchanged words when the teen's mother took exception to how the woman was talking with her daughter.
However, a Wegmans employee summoned a police officer working a security detail outside the store. The employee told police that the teen was not standing far enough away from the 52-year-old woman. Police arrested the teen on charges of harassment and obstruction of justice after the teen was not cooperative at the scene.
Intentionally or Recklessly Spreading Coronavirus May Constitute a Criminal Offense
This incident follows a similar incident at another Wegmans store in Manalapan, where a customer told a store worker that he had coronavirus and then coughed on the employee. That customer faces charges of terroristic threats and harassment.
New Jersey law enforcement is taking a zero tolerance approach to individuals who allegedly intentionally or recklessly spread or attempt to spread coronavirus. Even pretending to transmit the virus to another person as a "joke" can lead to serious criminal charges like harassment or terroristic threats, as prior cases have shown.
In addition, recklessly or intentionally spreading the virus can lead to even more serious criminal charges. In the past, some individuals have allegedly been charged with assault offenses for intentionally spreading fatal or potentially fatal communicable diseases. New Jersey law also specifically prohibits throwing bodily fluids (which may include aerosolized saliva from a cough) at police or corrections officers. As a result, it is clear that New Jersey law may consider attempts to infect another person with a disease using your own bodily fluids as a form of assault.
Intentionally or recklessly spreading coronavirus, or pretending to spread the virus as a "joke" is being treated incredibly seriously by law enforcement at this time. With thousands of people across the U.S. already dead from coronavirus and over 300,000 people infected, healthcare workers placing their own well-being at risk to care for patients, and hospitals facing severe shortages of resources needed to treat COVID-19 patients (and other patients as well), New Jersey law enforcement will not tolerate any efforts or suggestions of spreading this deadly virus. If you are arrested on harassment, assault, or other criminal charges for spreading or suggesting that you are spreading coronavirus, you need experienced legal representation to defend you against the likely severe criminal penalties you will face at this critical time during the coronavirus pandemic.
Contact an Experienced Camden Criminal Defense Lawyer About Your Harassment or Assault Charges
Were you arrested or charged with harassment or assault in New Jersey? The consequences of a conviction could be severe, leaving you with a permanent criminal record and possibly even sending you to jail. That is why you need to speak with a qualified and experienced criminal defense attorney as soon as possible about your case. The attorneys at Aydelotte & Scardella Law LLC have successfully represented clients charged with harassment or assault in Camden County, Burlington County, Gloucester County, and throughout New Jersey. Call 856-386-4892 or fill out the online contact form to schedule a consultation with a member of our legal team. We have an office conveniently located at 109 E. Atlantic Ave., Audubon, NJ 08106, as well as offices located in Hamilton, NJ.
The articles on this blog are for informative purposes only and are no substitute for legal advice or an attorney-client relationship. If you are seeking legal advice, please contact our law firm directly.