Garden State? More Like Cannabis State: Weed Now Legal in New Jersey
February 23, 2021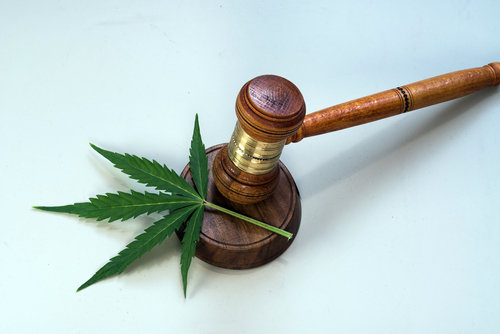 On Monday, February 22, 2021, New Jersey Governor Phil Murphy signed three bills into effect, officially decriminalizing marijuana. What does this mean though? Can you possess any amount of marijuana and not get arrested? Will your criminal record be expunged? Our criminal defense attorneys answer these questions and more below. Continue reading to learn more now that weed is legal in New Jersey.
Read more: When Do I Need a Lawyer for a Criminal Case?
How Much Weed Are You Legally Allowed to Possess in NJ?
Under this new law, New Jersey residents are legally allowed to possess up to six ounces of marijuana. However, you will still face legal consequences if you possess more than this legalized amount at any given time.
In addition to this, you will still be barred from smoking marijuana on public transportation and on public streets. Likewise, you will not be permitted to light up anywhere that smoking cigarettes is not allowed. You can, however, smoke in the privacy of your own home, as long as you possess the legal limit.
When Can You Buy Marijuana in New Jersey?
Despite marijuana officially being legalized, you will have to wait several months – maybe even a year – before you can walk into a dispensary to buy it. While Governor Murphy believes that residents will be able to buy marijuana in six months, industry experts aren't so sure. With more than 8 million people currently using marijuana for medicinal purposes, industry experts' primary concern is making sure there is enough cannabis available to cover these patients before extending it to those who want to use it recreationally.
Read more: Defining Drug Cultivation and Manufacturing in NJ
Will My Criminal Record be Expunged?
A system to vacate existing criminal records for those who were arrested and served time for marijuana possession is currently in the works; however, nothing is final yet. If you have existing marijuana charges against you, they will be thrown out under this new law.
If you were arrested and charged for a drug crime and you need help getting an expungement, the criminal defense attorneys at Aydelotte & Scardella Law LLC can help. Visit our website to contact us for a consultation or give us a call at 856-386-4892.
Read more: How to Beat Quarantine Boredom and Clear Your Record
Contact an Experienced Audubon Criminal Defense Lawyer About Your Drug Charges in New Jersey
Were you arrested or charged with a drug crime in New Jersey? The consequences of a conviction could be severe, leaving you with a permanent criminal record and possibly even sending you to jail. That is why you need to speak with a qualified criminal defense attorney as soon as possible about your case. The criminal defense attorneys at Aydelotte & Scardella Law LLC have successfully represented clients charged with drug possession, distribution and related offenses in Cherry Hill, Gloucester City, Camden, Mt. Ephraim and throughout New Jersey. Call 856-386-4892 or fill out the online contact form to schedule a consultation with a member of our legal team. We have an office located at 109 E. Atlantic Ave., Audubon, NJ 08106, in addition to offices located in Hamilton.
The articles on this blog are for informative purposes only and are no substitute for legal advice or an attorney-client relationship. If you are seeking legal advice, please contact our law firm directly.